Welcome to Rhenock Educational Society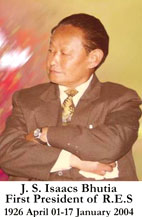 Rhenock Educational Society is a pioneer Educational Society of Sikkim. The head office of the Society is situated at Fiveways, Deorali, Tadong, Sikkim - 737102.The name of the society is derived from the name of a place called Rhenock which is situated in a small hamlet in the eastern part of Sikkim known to the outside world for its exotic flowers.
Prior to 1950, a visionary man from Rhenock my father Late Damber Singh Chhetri used to ask me to teach the neighbours to write their names for using in any transaction instead of using thumb impression. His idea of creating a literate society was later boosted up by Government of India's 'Each One Teach One' and 'Adult Education' programmes. This revolutionary idea of my late father encouraged me to develop educational institutions and serve the society, thus in order to establish educational institutions, a society by the name and style, 'Rhenock Educational Society' was established in 1990 with the help of like minded people, like late J. S Isaac Bhutia, as founder President of the society to spread education amongst the masses.
Immediately in the same year 'Himalayan Pharmacy Institute' was established, and in 1994 a General Degree College by the name 'Damber Singh College' and in 2003 a teacher education college by the name 'Harkamaya College of Education' in the name of the late father and late mother respectively of the Founder and Director, Dr. H.P. Chhetri were established.